It seems like my life revolved around Mass. Ave. last Saturday. Between the haircut, the Saturday meeting of the Local Government Luncheon Seminar, the cleaners, and the rest of the errands, I found myself heading up and down the avenue with amazing frequency.
In my car.
If my life revolves around the avenue, and it's a beautiful day, why am I driving myself up and down the avenue instead of riding a bus that is scheduled to run at no more than a ten minute interval?
Wes Beal and I were heading east along Mass. Ave. near the Alewife Brook Parkway when we spotted two 77 buses heading toward Harvard Square at 12:30 p.m. "No excuses for bus bunching on a Saturday," I remarked.
Why is this a big deal? Quite simple. If the 77 is running on schedule, a bus will come along every ten minutes. If you ride the bus often, the average wait will be five minutes and the wait will be no more than ten minutes. When they bunch, chances are the first bus is now running 10 minutes late, so the average and maximum wait doubles, and more.
Late buses mean more people waiting at bus stops, more time required to board and disembark from buses, and the bus gets later and later. Meanwhile, the next bus on the schedule zips past empty bus stops and catches the previous bus. When a 10 minute interval becomes a 0 minute interval, it creates 20+ minute gaps as well.
The research literature talks of congestion and very long bus routes as major causes of bunching. The 77 does run on very congested streets during morning and evening rush hours, but this is a Saturday on a 5.25 mile route. It's a clear and dry Saturday.
Too much ain't enough
But that's not all. During the rest of the day, my trips up and down the avenue led to encounters with more bunches of buses. Bunches of people waiting at bus stops. Here's the other three instances from Saturday, October 25.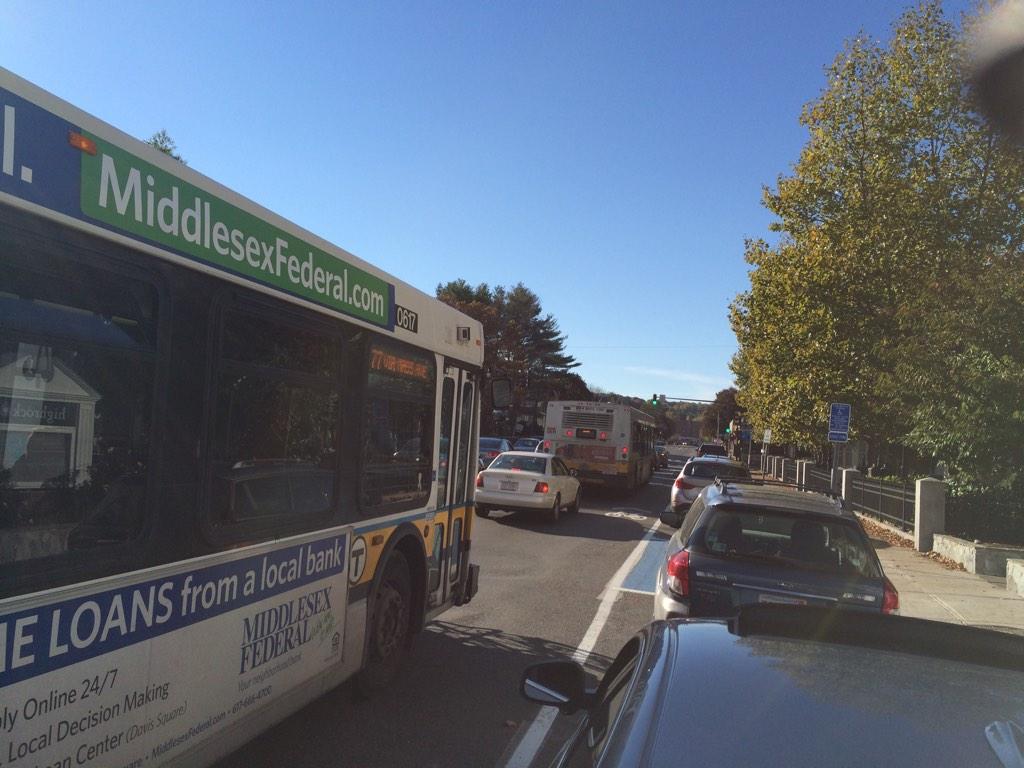 Outbound Massachusetts Avenue at Foster Street, Arlington.
3:15 p.m.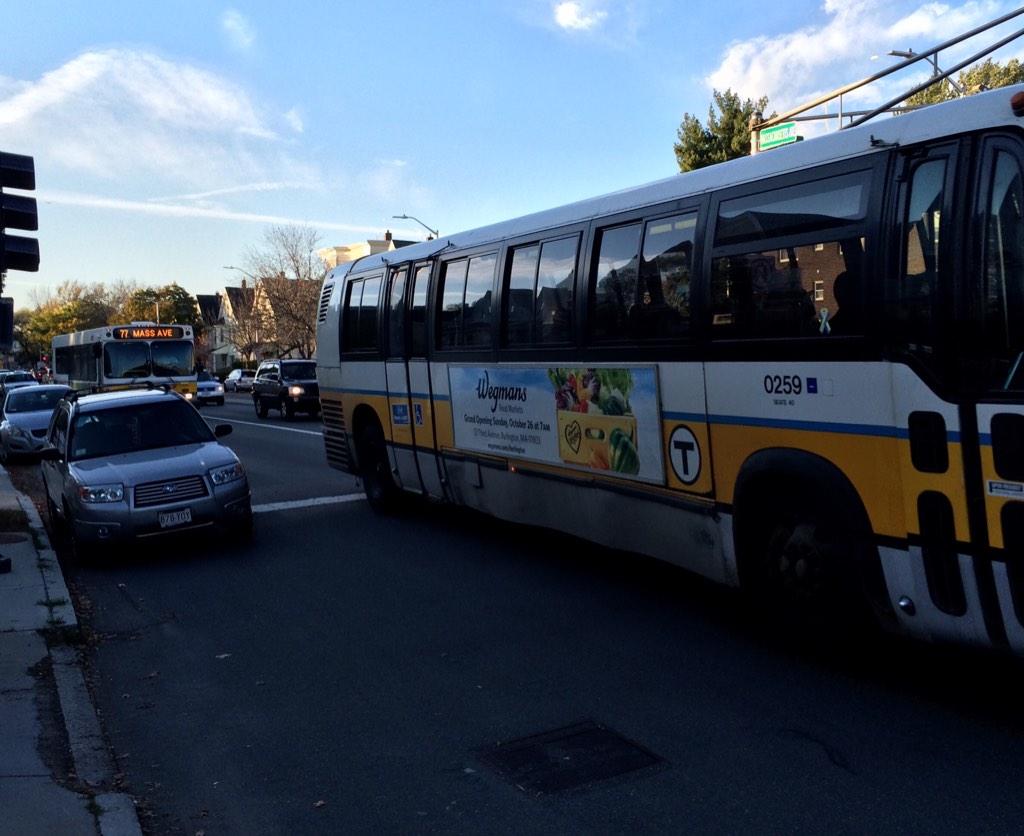 Inbound Massachusetts Avenue at Churchill Avenue, Cambridge. 4:51 p.m.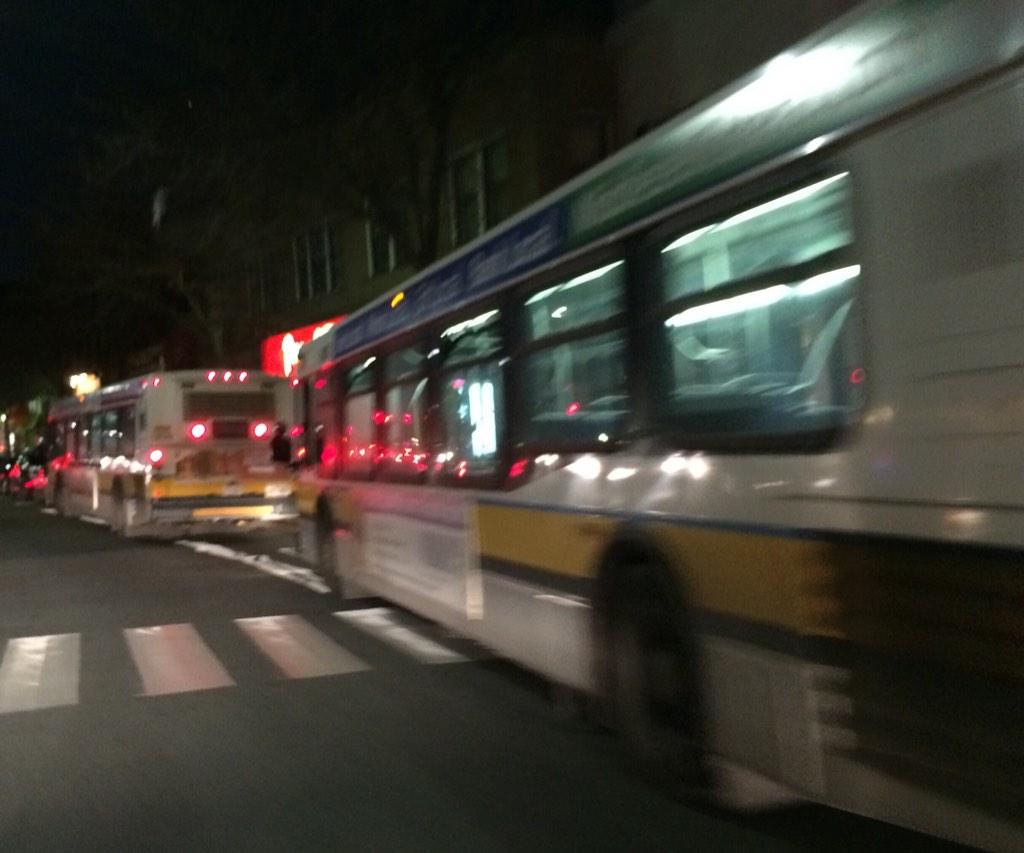 Outbound Massachusetts Avenue at Medford Street, Arlington. 6:35 p.m.
We have bunches of buses and bunches of people delayed by the unreliable service. The chronic unreliability of the buses encourage bigger bunches of folks to avoid the bunching buses, escaping 20+ minute waits at bus stops by driving up and down Mass. Ave.
There's no excuse for this unreliable bus service.
The MBTA can fix this, and it is imperative that they act.  Unreliable buses are the weak link in the region's transit system, and it doesn't take too many 20 minute waits at a bus stop for people to give up on the T and drive instead.